– Home visit by an energy efficiency advisor
An energy efficiency advisor will first visit your residence.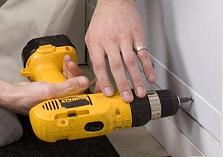 He will give you practical advice on how to save energy on
Heating
Hot water
Household appliances
Lighting
Based on the available time and the needs of your residence, the advisor may take one or more of the following concrete measures:
Caulking and weatherstripping windows
Installing weatherstripping on doors
Insulating electrical outlets on outside walls
Installing low-flow showerheads
Installing aerators on water taps
– Installation of electronic thermostats
Once Component 1 has been completed, you may benefit from the installation of electronic thermostats in your residence, free of charge.
This service will be proposed by the advisor during his or her visit. Feel free to ask him or her any questions you may have!
Electronic thermostats help improve the comfort of your residence in winter.
Other criteria may apply : you must receive heating bills from an energy distributor.

In short, the services provided and accessories installed will improve energy efficiency in your home.
This will not necessarily lead to savings on your energy bill, since other external factors may also have an effect (temperature variations, lifestyle habits, energy price increases, etc.).
However, Éconologis interventions will improve comfort levels in your home and help reduce your environmental footprint.